Home//
Articles//
Maximise your Impact at a Trade Show
Maximise Your Impact At A Trade Show




Maximise Your Impact at a Trade Show
Trade Shows can be a highly competitive business.You are exhibiting amongst hundreds of your competitors; and you are all offering similar products or services, all to the same group of people.It is important when you are planning for the exhibition; that you take into account the impact you need to make, not only on the day of the Trade Show, but before and after the event as well.Here are a few steps to follow to make sure you maximise the impact you make at the Trade Show:
1. Make prior contact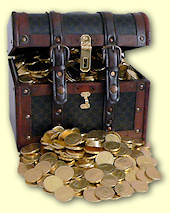 A small amount of effort invested prior to the event can have a considerable effect on the impression you leave with your prospective client after the event.If you have a list of attendees prior to the day, why not contact them before-hand? Even just send them a card letting them know who you are, that way when they see your stall amongst all the others, they instantly feel a sense of familiarity. Or send them a gift to entice them into coming to your booth. A gift that has two parts will always work well.Send them a left thong and tell them they can pick up the right one at your stall.Or send them a key to a 'treasure box'.Have several 'openings' throughout the day where everyone gathers around with their key and has a turn at opening the treasure box.The winner receives a prize, which of course bears your logo so that they never forget where they got the gift from.
2. Be smart about your giveaway product
Put some prior thought into the promotional product that you give away at the Trade Show.For a lot of the recipients, this may be the first time they have ever heard of you, so you need to give a good first impression with a unique or clever gift; but also leave a lasting impression by giving a gift that will definitely be kept and re-used; preferably more than once. Have a chat with your Promotional Products consultant about your target audience and your budget.There is a suitable promotional product out there for everyone; it's just a matter of finding it.
Your aim is for your prospective client to recall your company and be able to contact you again quickly and easily. A promotional product with your company logo, name, phone number and email address carries just as much information as a business card but is far less likely to end up in the rubbish bin with the rest of the discarded flyers and cards that have been received during the Trade Show. So why not give a business card holder rather than a business card? Or better still; give them a sturdy carry bag with a thick shoulder strap.That way everyone else's plastic bags and tote bags and catalogues etc will all be carried around in a bag bearing your logo.Invest a little more into a bag than the others and pretty soon every person at the trade show will be using your bag.People will even seek you out once their hands are blistered from carrying plastic bags.
3. Always follow up
The follow-up is just as important as your performance during the event. It is likely that they are going to be exposed to thousands of people just like you at the Trade Show, so it makes sense that you will have to remind them who you are. Don't be offended, it's not their fault.The human brain can only take in so much information at one time but if you have made contact before, during and after the Trade Show, then you have ensured exposure to your brand at least three times.The easiest way to ensure you collect a large database at the Trade Show is to offer a prize draw for everyone who gives you their business card. A competition like this will increase your exposure in several ways.
i. It will build your database;
ii. The draw you hold will entice people back to your stall a second time;
iii. The gift you give away will bear your logo. If you give away a 'lifestyle' product like a picnic cooler or a travel bag, this will mean the product is likely to be used repeatedly and will also be seen by thousands of people - thus increasing your exposure in the marketplace
If you invest some time in developing a promotional product or combination of products that are useful and add value for your client, as well as promoting your brand, you are far more likely to leave a lasting impression that will ensure your company stands out from the crowd.
How Promotional Products REACH:
At a recent survey conducted in an International Airport...
71% of the business travelers reported having received a promotional product in the last 12 months.
37% of the group had the item on their person.The item was promoting the giver's logo repeatedly to the participant and their associates
Source: mice.net: August 2006 article "Promotional Products"


---
If you have any questions relating to promotional products, or need assistance in choosing corporate gifts, please don't hesitate in contacting us. JEM Promotional Products
Phone: (02) 8205 1334
E-mail:
enquiries@jempp.com.au
Website:
www.jempp.com.au